If you're looking for a superb place for your child to learn dance, check out the modern studios here at Townsville Academy of Performing Arts (TAPA).
In our purpose-built dance complex, there are six (6) air-conditioned dance studios, with an upstairs loft that can be used for exercise or relaxation.
All of our studios have:
sprung floors, some varnished, and the remainder with Tarkett Dancefloor® covering, to provide the optimal learning environment for our students;
one wall, fully-mirrored;
barres on 2 walls;
obstacle-free disabled access; and
a stereo sound system
We have a large airconditioned foyer reception and waiting area with CCTV monitors to all studios, to enable parents to view the class in progress. Additionally, a television is present in the waiting area for younger siblings…to keep them entertained and occupied!
A male and female bathroom is readily accessible from both studios and waiting room, with a shower in each facility, as well as a separate disabled bathroom.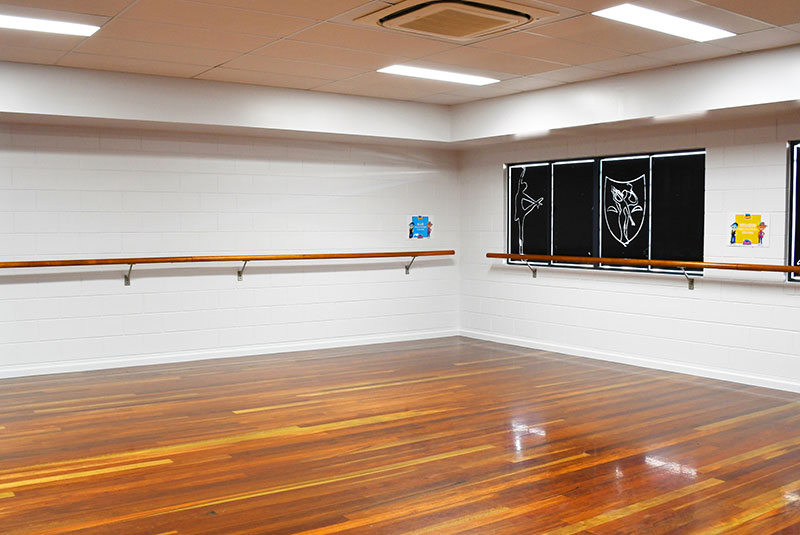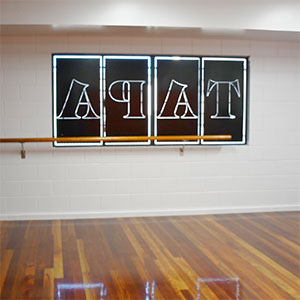 STUDIO 1/2
Studio 1/2 is a multi-purpose studio that can be separated into 2 smaller studios (Studios 1 and 2) with a curtained partition, with access to each smaller studio available by separate doors. Like all other studios, it is fully air-conditioned and has sprung timber-varnished floors, with full-length mirrors.
STUDIO 3
Almost the same size as the combined Studio 1/2, Studio 3 has sprung timber-varnished flooring, is fully air-conditioned and has one full-length mirrored wall. Being easily accessible from the foyer/waiting room, this studio is often used for our Ready, Set Dance and Ballet students.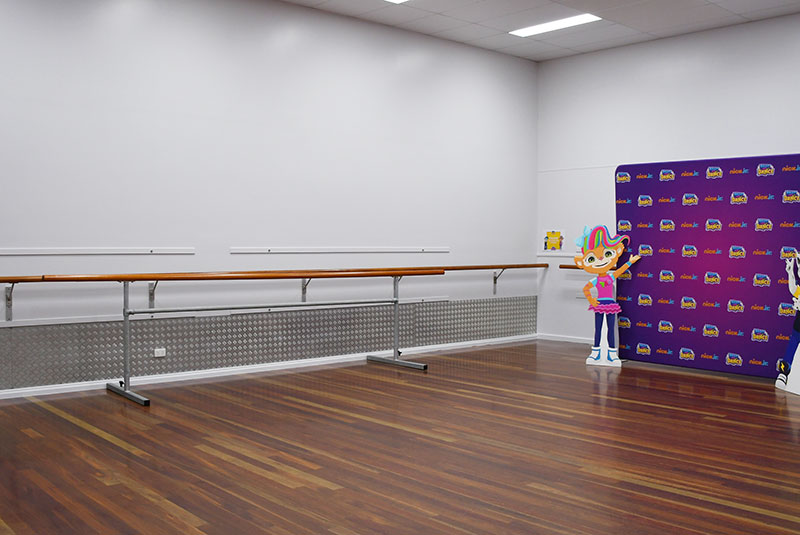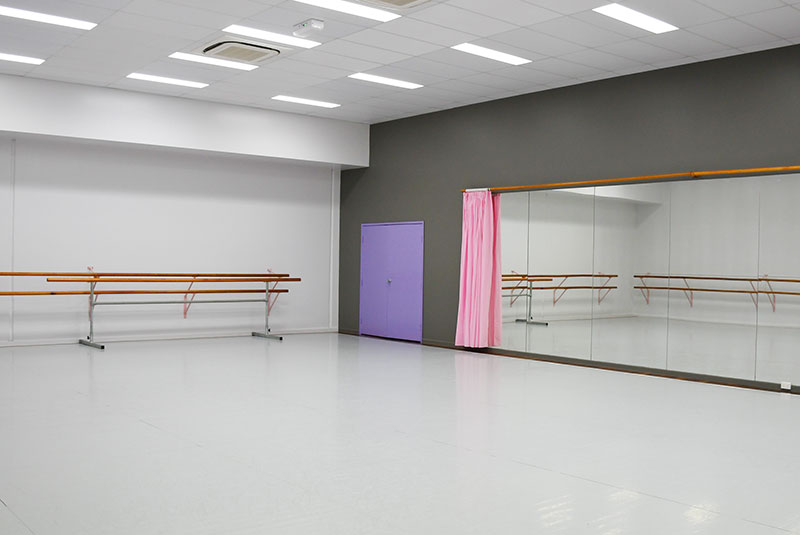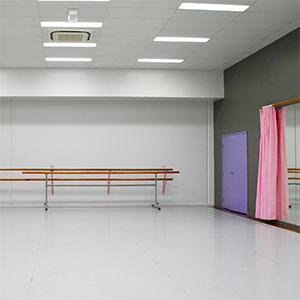 STUDIO 4
As with all of our studios, Studio 4 is fully air-conditioned with a sprung timber floor covered with Tarkett® vinyl flooring, a purpose-built surface which offers excellent grip for dancers, reducing the risk of injury. This studio is primarily used for our Classical Ballet classes.
STUDIO 5
Studio 5 is slightly smaller than Studio 4, but outfitted the same, being fully air-conditioned and with a Tarkett®-covered sprung timber flooring. It is often used for our tap and contemporary dance classes.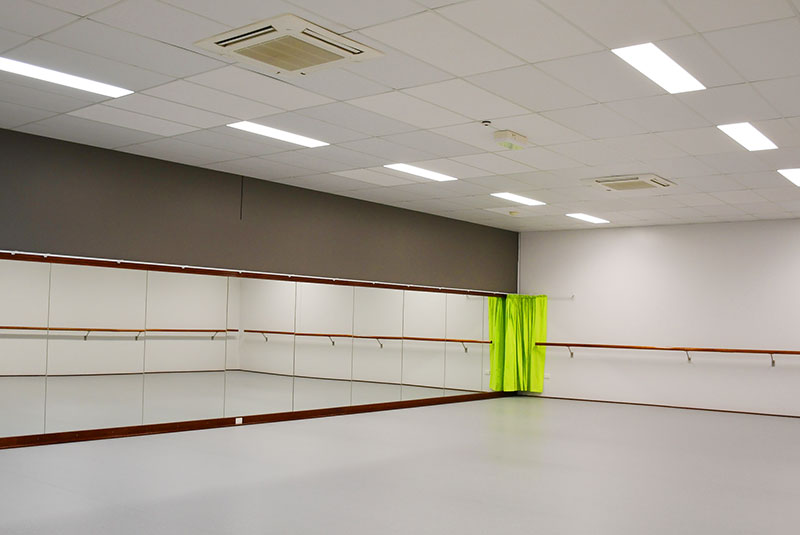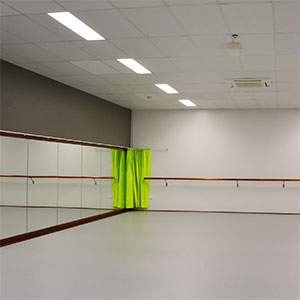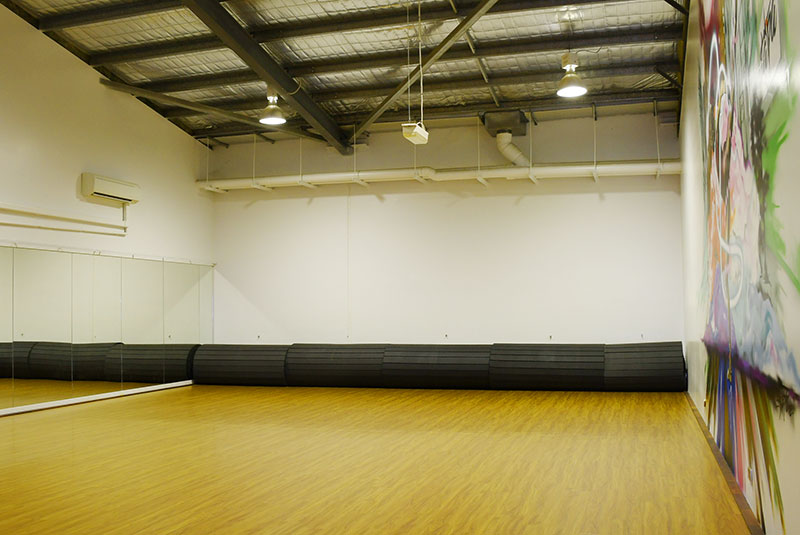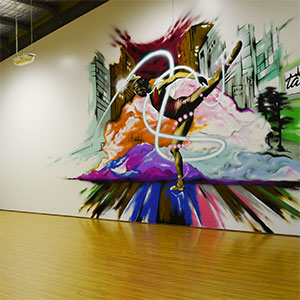 STUDIO 6
Studio 6, the "warehouse studio", has an urban feel where dance acrobatics (acrodance) is taught, allowing mats to be rolled out to cover the entire floor, thereby ensuring the safety and support to our growing dancers' bodies. It is, as are all of our studios, fully air-conditioned.
Studio Dimensions
| Studio | Size | Area |
| --- | --- | --- |
|   1 | 4.38m × 5.46m | 23.93m2 |
|   2 | 7.84m × 7.19m | 56.35m2 |
|   1 + 2 | | 80.28m2 |
|   3 | 7.50m × 9.70m | 72.75m2 |
|   4 | 14.81m × 9.88m | 146.39m2 |
|   5 | 14.81m × 8.19m | 121.36m2 |
|   6 | 14.81m × 8.74m | 129.50m2 |
Studio Hire
With classes being conducted concurrently in all studios during school terms, hire availability during this period is unlikely. During vacation periods, extra-curricular and extension classes are often conducted, but not all studios will be in use. Please contact the Academy for further information, if you are interested in hire, to determine availability and cost.